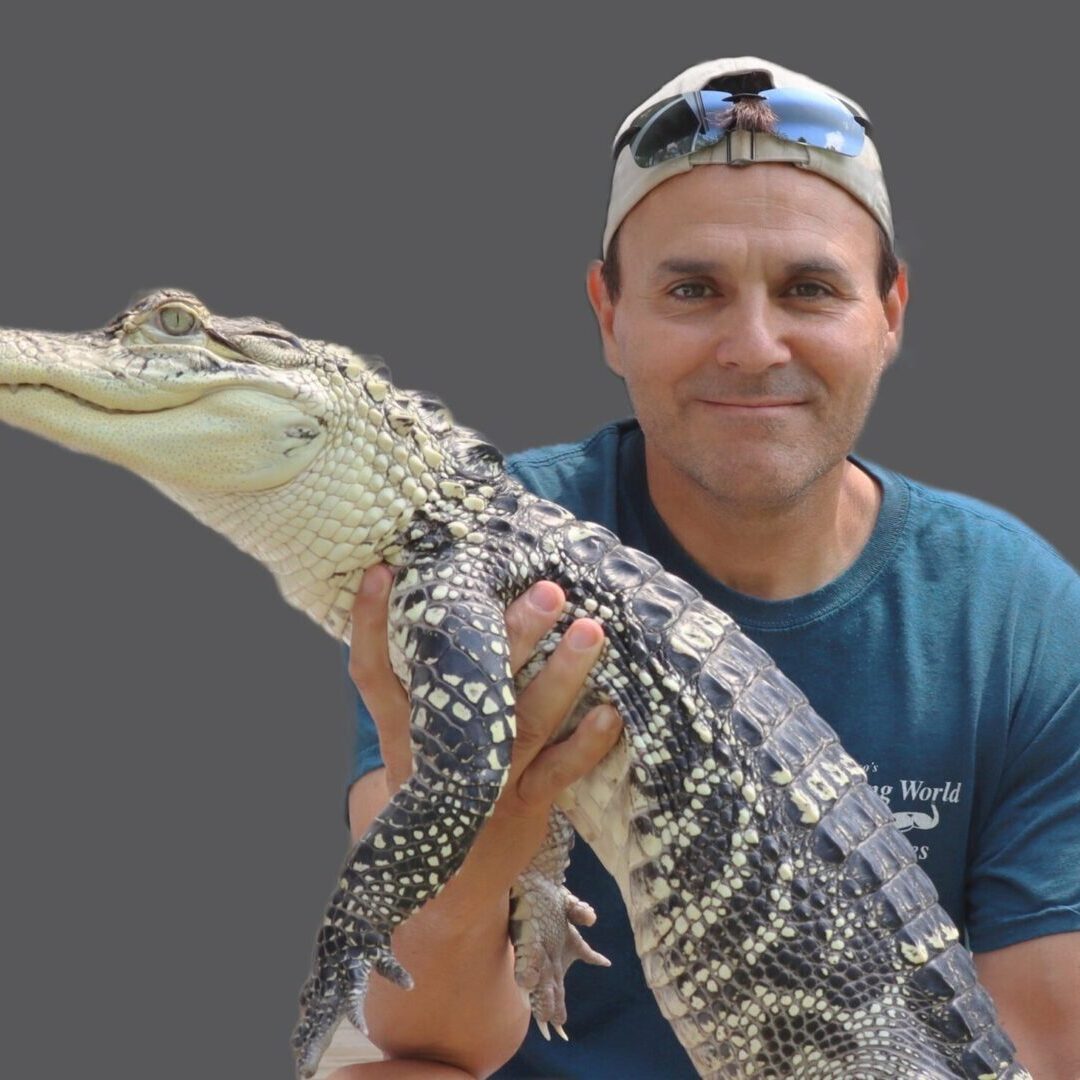 On April 15th, 1994, I walked into a Catholic grade school on the south side of Chicago and performed my first reptile show. I had prepared for this moment for several months, yet it did nothing to calm my nerves as I looked out at the 300 students and faculty, with no experience speaking in front of a crowd, wondering how I was going to pull it off. I was good at hiding my nervousness, and I used my quick-witted humor to my advantage. After only a few minutes, I had everyone laughing, and from that point on, I knew everything would be just fine. And so began the Traveling World of Reptiles! Looking back, I never could have imagined that this crazy idea I had as a young twenty-some-year-old kid would grow into what it has today.
I have always had an obsession with anything animal related, dating back to when I was a toddler. When I was six years old, my parents built a summer home on a small, quiet lake in Michigan. There were snakes, turtles, frogs, and salamanders everywhere! It was heaven on earth for a kid like me, and it helped further fuel a lifelong passion that would shape my future. I became more serious as a teenager and began to care for many different exotic animals that were available in the pet trade. I collected an extensive library of books, reading every one of them from cover to cover, and recorded and watched hundreds of animal documentaries. All of this valuable learning experience would be a huge advantage leading up to performing shows.
It wasn't long after returning from college that the idea of starting a traveling reptile show popped into my head. I did several odd jobs to earn enough money to begin collecting a menagerie of show animals. I kept dozens of different reptiles, including alligators, Nile crocodiles, anacondas, monitor lizards, iguanas, and large pythons. Cell phones, the internet, and social media were still years away, so advertising consisted of driving around and dropping off business cards and brochures at the local schools and libraries. It didn't take long for things to take off. By my third year of performing shows, I was averaging a show every day, not an easy feat considering it was all word of mouth. As the years went by, I was becoming overwhelmed with show requests, and I was performing almost 750 shows annually by myself. I made the decision that it was time to hire and train several employees. Presently, the Traveling World of Reptiles has four full-time performers, and we perform well over a thousand shows each year.
My experience is not limited to the care of captive reptiles. I have traveled extensively not only within the US but all over the world, having set foot on every continent, with the exception of Antarctica, spending countless hours photographing and observing wild animals. I have traveled to Costa Rica several times, making educational YouTube videos and spending the majority of my time hiking in the rainforest, where the highest density of biodiversity on the planet exists.
Australia was a bucket list destination of mine, and during my visit, I had the opportunity to scuba dive the Great Barrier Reef, trek through the tropical and temperate rainforests, visit the outback and travel north to the Adelaide and Daintree rivers to film the largest living reptile, the saltwater crocodile! I have been to three African countries, including Tanzania, where I filmed big game animals and witnessed the great migration along the Serengeti Plains. I also spent time at Lake Manyara, Tarangire National Park, the Ngorongoro Crater, and the Olduvai Gorge. More recently, I went back to Central America, to the coast of Belize, hiking throughout the Cockscomb Jaguar Preserve and visiting the rainforest. My next adventure was to the San Juan Islands near Vancouver, Canada, where I had the amazing opportunity to film and photograph killer whales. One of my favorite places I have visited is Colombia, South America, where I hiked some of the most pristine rainforest on the planet. The sheer number of species there was incredible, and I hope to one day return again. My most recent adventure was to Malaysia and Singapore in South East, Asia in 2022 and 2023, where I photographed the reptiles and other wildlife in the Sungei Buloh Wetlands Reserve, Bukit Timah Nature Reserve, and Pasir Ris Mangrove Reserve in Singapore.
Jeremy is my longest-tenured employee, having been with the company for almost twelve years. I cannot say enough about his dedication, professionalism, and friendship throughout the years. Anyone who has seen him perform will tell you that his show is both hilariously funny and educational. He has personally performed thousands of reptile shows with the company and has built quite a reputation for himself.
The decision to hire Jeremy was an easy one. He was born and raised in North Florida, where he performed reptile shows, before moving to Illinois and bringing some of his critters and southern accent along with him. He studied biology and photography at Jacksonville Florida College and worked as a volunteer at the Florida Naturalist Center at the Museum of Science and History, where he maintained and cared for the reptiles, amphibians, and birds of prey. As a member of the Jacksonville Herpetological Society, Jeremy spent many hours in the field and Florida swamps, exploring and studying the local flora and fauna. The Florida Panhandle was his backyard growing up, and his childhood was spent in the pinewood forests and cypress swamps, home to gators, coral snakes, and eastern diamondback rattlesnakes.
Jeremy owns an impressive collection of reptiles. Some of his show animals include an alligator, a massive Burmese python, a blue iguana, an Asian water monitor lizard, an alligator snapping turtle, a sulcata tortoise, and many, many more. This year he successfully bred his red-footed tortoises and hatched several future show animals.

Jeremy is an avid fisherman and scuba diver. He also enjoys traveling and has recently gone on a mission trip to the Bahamas, where he devoted his time to aiding in the clean-up effort after Hurricane Dorian in February of 2020. He has since traveled to the Costa Rican rainforest and Jamaica. In 2023 he traveled to Southeast Asia and visited Bukit Timah Nature Reserve, Pasir Ris Mangrove Park, and the Sungei Buloh Wetlands Reserve in Singapore. He also enjoys traveling throughout the US, and within the past few years, he has visited Tennessee, Arizona, Texas, Kentucky, and California in search of native reptiles and amphibians.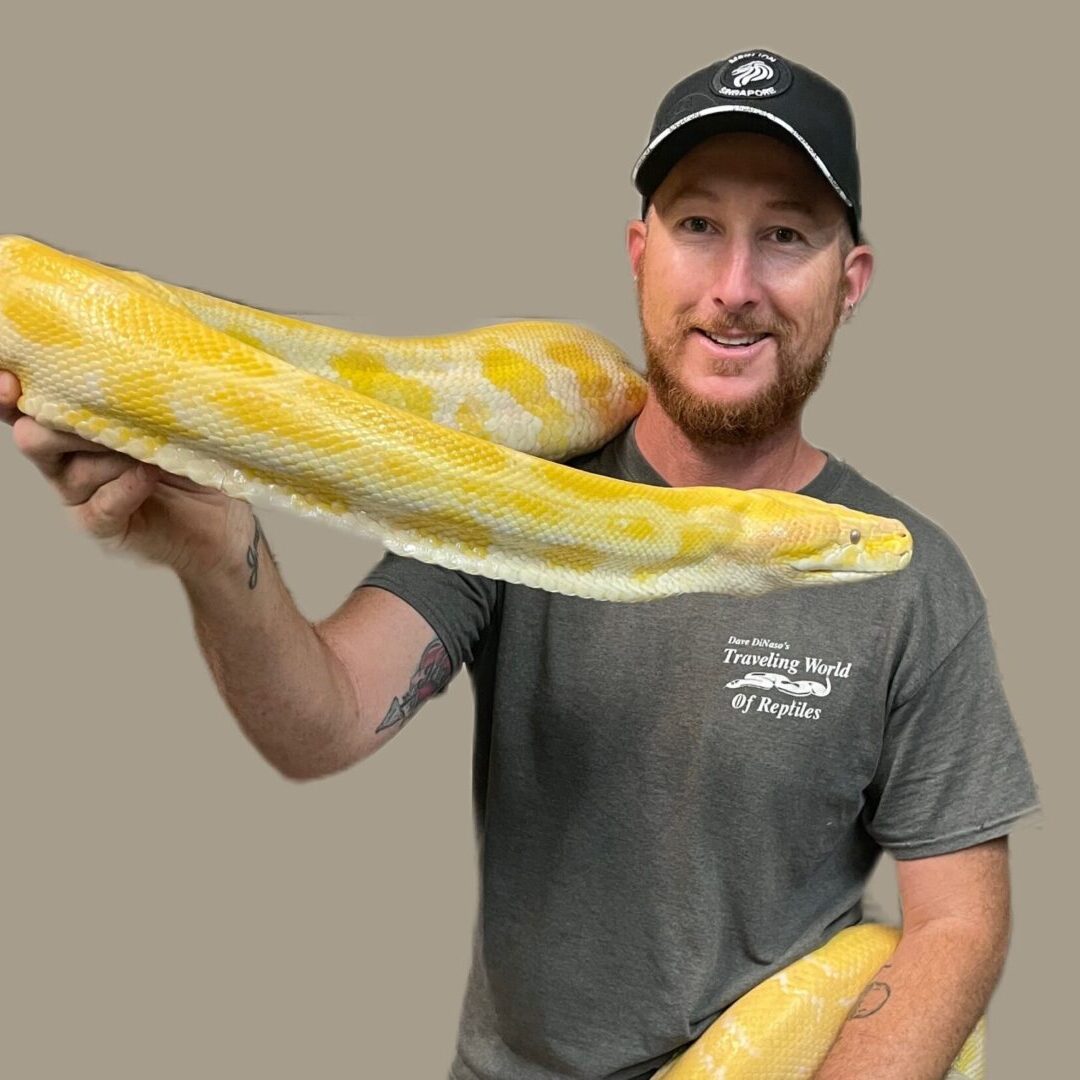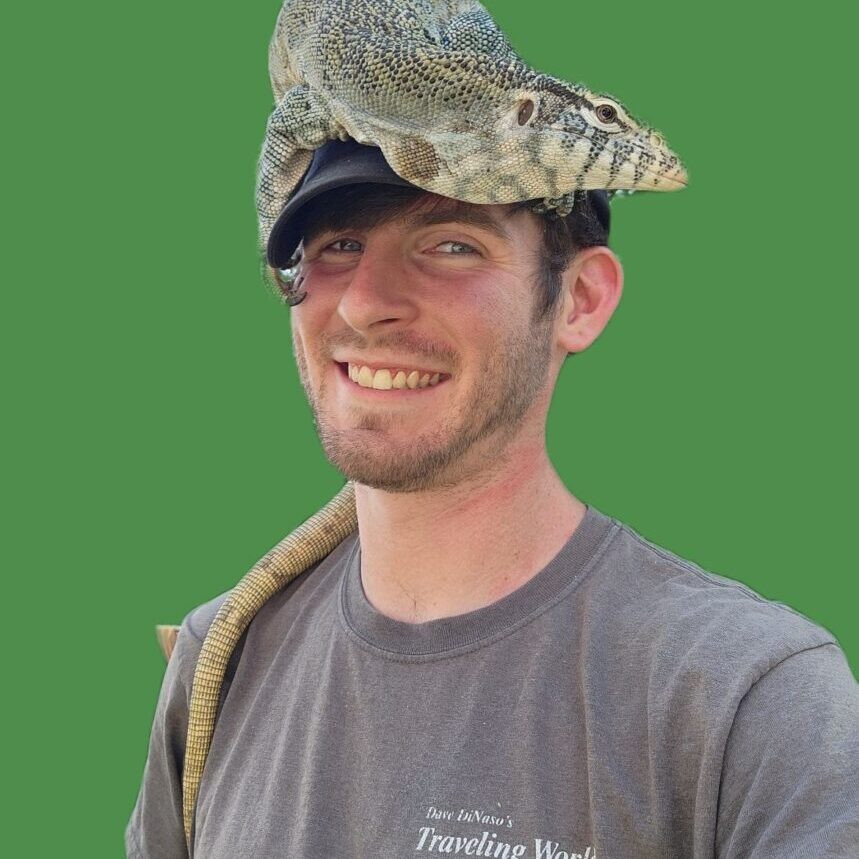 In 2017 I received an email from Brendan inquiring about employment opportunities. He had only recently graduated from Southern Illinois University, where he earned a bachelor's degree in zoology with a minor in environmental studies. I was so impressed with his experience, especially considering his age. He started working with animals when he was young and volunteered at the Animal Welfare League in Chicago Ridge, Il. where he worked with both wild and domesticated animals. During his time in college, he led a research project and conducted experiments working with fish and amphibians. Furthermore, he has experience in Midwestern wetland and grassland ecosystems. Brendan is, without a doubt, the most educated and tallest employee, lol, and it's definitely a benefit to have someone with the knowledge that he possesses working for the company!
Training an employee to do shows typically takes many weeks, but Brendan was off and doing his own shows in just a matter of days, a testament to his confidence and skill in working with animals. His show is funny, with just the right blend of scientific information. He rarely takes more than a few days off a month, and I consistently receive glowing reviews and repeat requests from the people who attend his show. Due in part to his educational background, I often send Brendan to speak at the local colleges that hire us to perform for their students. Some of the critters that Brendan likes to bring along with him include an Australian blue-tongued skink, an ornate Nile monitor lizard, a reticulated python, an Asian forest scorpion, a gargoyle gecko, and a leopard tortoise.
Old Mac Brendan had a farm! Brendan's house sits on three acres, and the outdoor space is certainly being utilized wisely. When he is not performing shows, he is busy taking care of his mammals. Aside from his dogs and cats, he currently owns two horses, seven goats, chickens, quail, ducks, and pigeons!
There must be something in the water because Brendan and I unknowingly grew up in the same town of Oak Lawn, less than a mile apart. We even graduated from the same high school. We obviously share similar interests along with a strong work ethic. I'm lucky to have found such a well-rounded employee, and I look forward to many more years of him working for the Traveling World of Reptiles.
Joe is the most recent addition to the Traveling World of Reptiles team! Long before I knew him, he owned an impressive collection of reptiles, and he currently has an Asian water dragon, rhino iguana, Savannah monitor, sulcata tortoise, red tail boa, green iguana, and many more. Most of his pets are rescues, and he's been caring for reptiles since he was 12 years old. His love of nature inspired him to join the scouts, which led him to earn the ranking of Eagle Scout, a monumental challenge that only 5% of scouts ever complete! In order to achieve this goal, he was required to hike 5 miles of wilderness trail in the Rocky Mountains each day for two weeks while carrying a 60 lb. backpack, which was not an easy task to accomplish.
He attended Willowbrook High School in Villa Park, where he elected to take classes in animal science and ecology. During the summers, he would take home and care for the classroom pets, which included a ball python, bearded dragon, Cuban tree frog, and eastern box turtle. He volunteers at the Greater Chicago-land Caged Bird Society, rehabilitating and caring for sick and injured birds. His hobbies include rock climbing and wildlife photography. Some of his most recent photographic adventures have been in Joshua Tree National Park in California, Starved Rock in Utica, Il. and the Red River Gorge in Kentucky.
For years, Joe worked in television and film production on the set of many Hollywood films and TV shows, but the desire to work with animals never left him. He literally decided to quit his job and seek out a career doing something he truly loves, and this is a big reason why he reached out to me. He admittedly has a soft heart for animals and has a hard time turning down an opportunity to help an animal in need. The transition to working for the company was an easy one for Joe, and he's already well-established, having performed many shows. His easygoing personality and obvious affection for the animals he brings to his shows have made him an instant fan favorite!