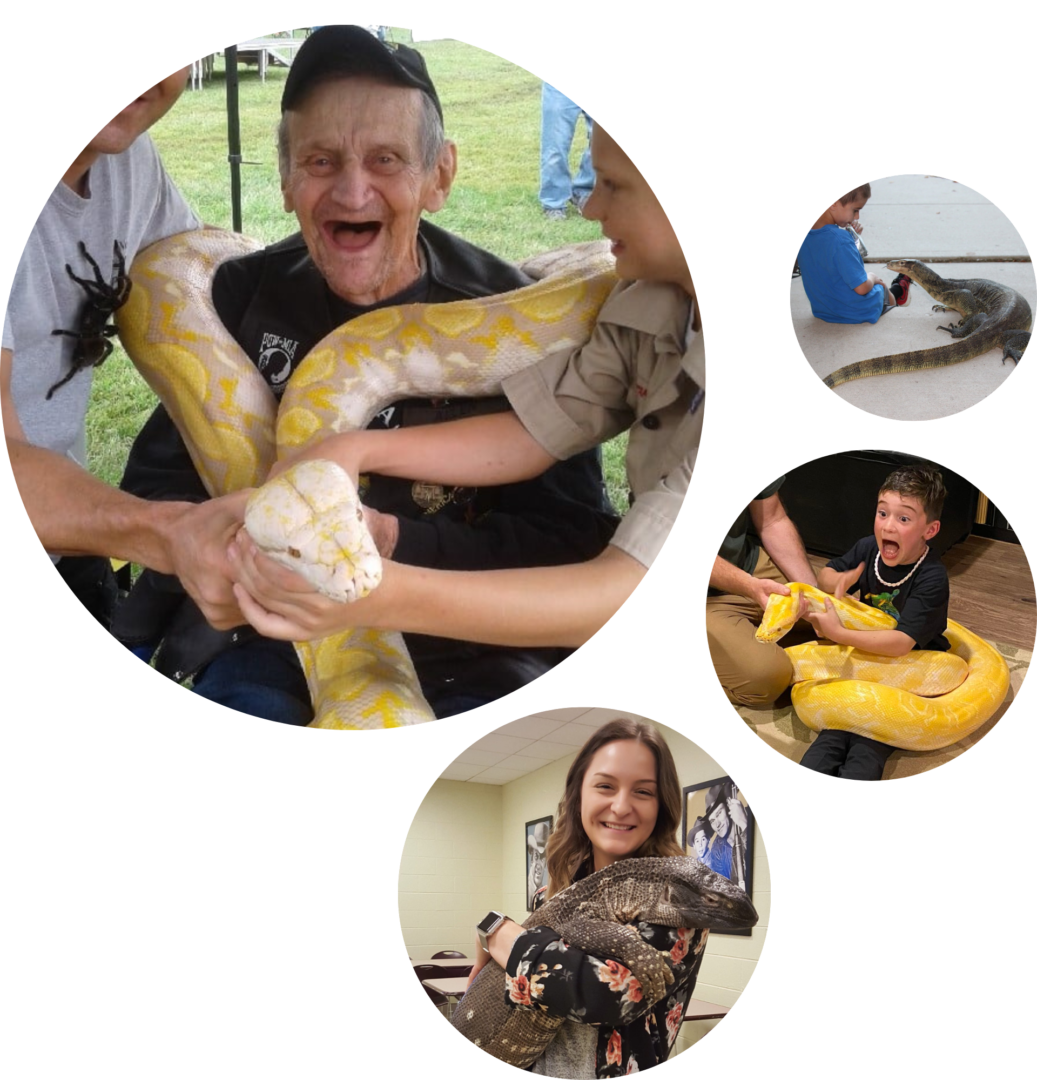 Absolutely! We have always carried liability insurance, but only because many of the places where we perform require that we do so. No one has ever been bitten or injured by any of the animals in our show. Proof of insurance is available upon request.
Most of our shows are done within the Chicagoland and Northwest Indiana regions. We will occasionally travel further for "bigger" events, such as county fairs and corporate events.
The earlier, the better. I would advise calling at least eight to ten weeks in advance for the best chance of ensuring a date. It helps if you have a flexible schedule with several dates to choose from. Weekends fill up faster than weekdays. You may want to call earlier for a Saturday or Sunday.
We are available 7 days a week! Shows can be scheduled in the morning, afternoon, or evening.
No. We often perform at county fairs, where the crowd can number more than five hundred, or at private birthday parties, where there may be only a few dozen children or fewer.
Yes. We have been invited to many pre-schools up to senior centers. Our show is entertaining and educational for both children and adults.
Very little! We can set up in a matter of minutes as long as there are not too many stairs involved, and we can park close to the area where we will be performing. We usually arrive only 15 to 20 minutes before the start of the show.
Not yet. Hopefully, in the near future, we will, but for now, we will only travel to you.
Yes, but only during the warmer months and only if the weather permits. On warm days, outdoor shows can be done provided there is an area of shade for the animals. Direct sunlight will overheat a reptile rather quickly. We must be indoors or under a shelter if it is raining. No shows will be done outdoors when the temperature is below 65 or above 95 degrees.
Sometimes, but we usually do not have the time or additional space to take on everyone's unwanted pets. Feel free to call us, and we'll try to help place the animal for you if we can't take it from you.
Yes. You can take as many pictures as you'd like. The flash does not bother the animals. Videos can only be taken with our permission. We do normally allow performances to be recorded for private use only with the express written consent of major league baseball.
The cost of our show varies as we price events differently. For example, our birthday party presentation starts at $275.00 and could be slightly more for shows that are outside of our typical traveling area. A school presentation is $375.00, and for larger shows, such as county fairs, festivals, and libraries, we charge $425.00. We do have package rates for all-day or half-day events, such as in-school field trips. Please call or email if you have any questions regarding the cost.
No way. We understand kids sometimes get sick, or an emergency may arise that would prevent you from having us come out to your event as planned. We're not going to steal a $50.00 or $100.00 deposit from you for a show we end up NOT performing at. We don't think that's fair, and we do not accept payment until the day of the performance.
We accept all forms of payment, including credit and debit cards, but we prefer check or cash to avoid credit card fees. We also accept Venmo, Zelle, and Cash App. We do not require a deposit, and we typically do not accept payment until the day of the show.