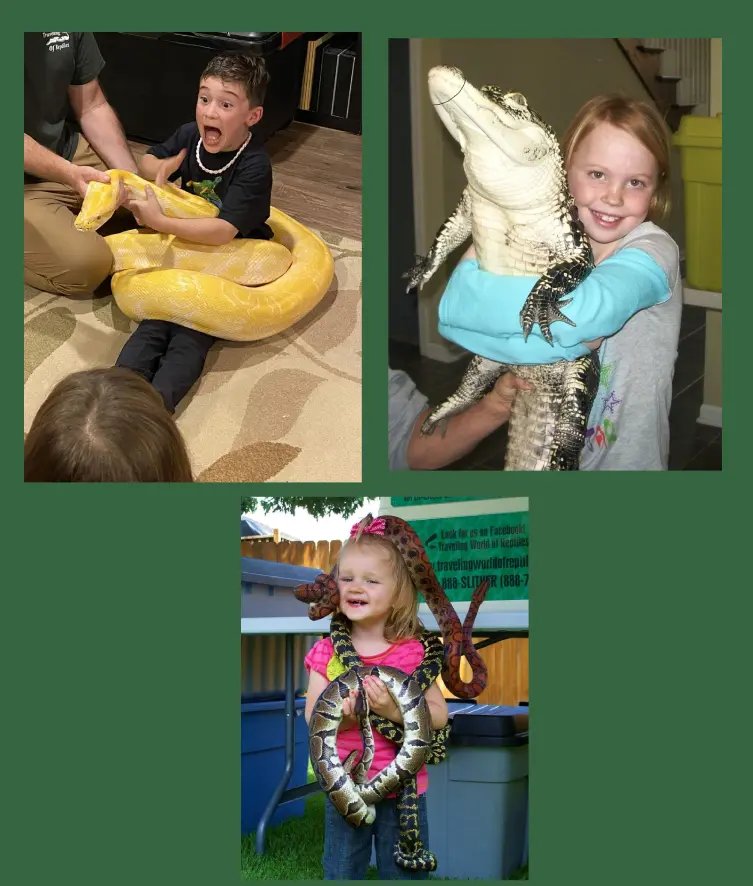 Making Every Show Truly Unforgettable
An Up-Close, Live, Hands-On Presentation, Featuring Reptiles and Amphibians From Around the World!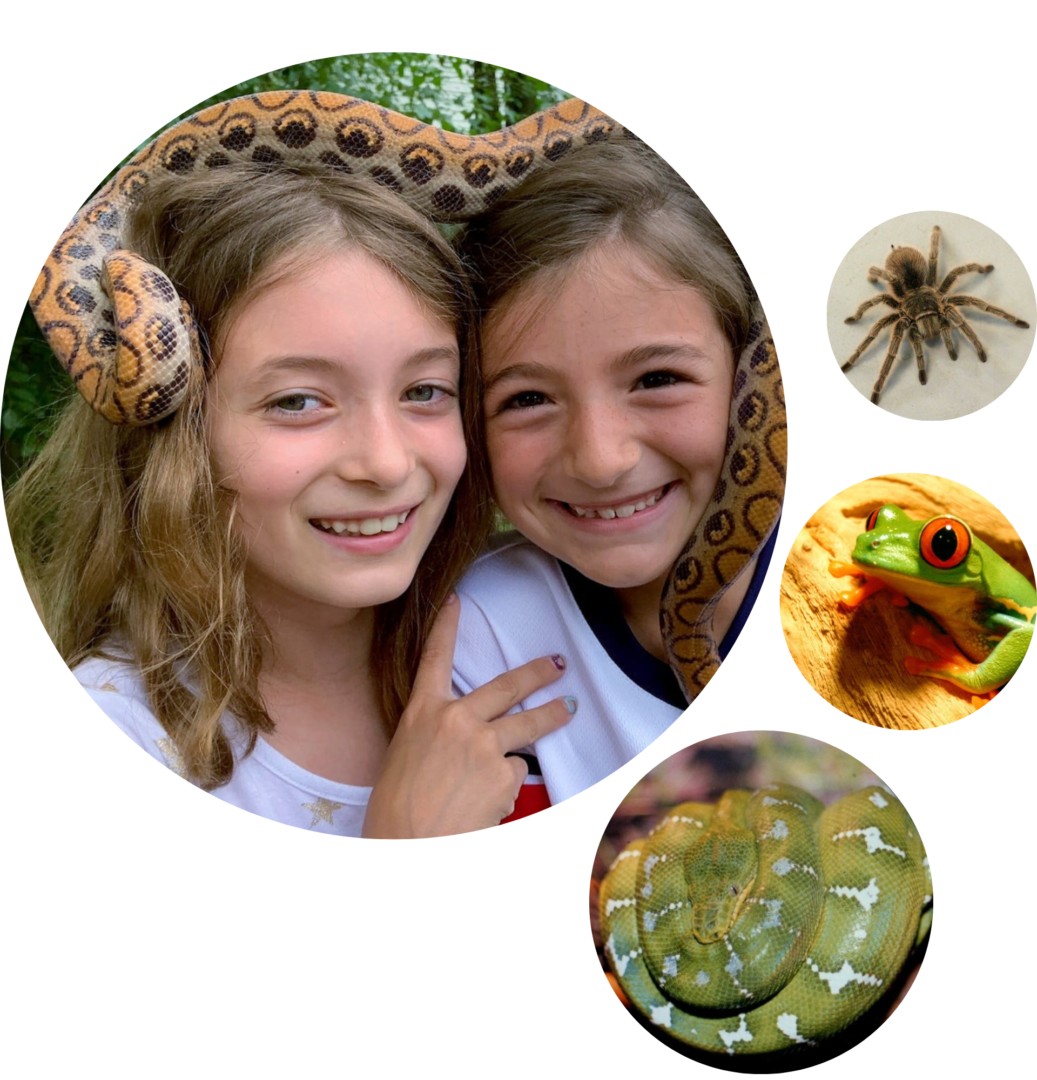 "CAUSE BEHIND THE CLAWS"
There's no doubt that reptiles are one of the most misunderstood, feared, and persecuted groups of animals on the planet. The danger they pose to humans is often over-exaggerated and their benefit to man, incredibly underestimated. We do not teach people to "like" reptiles but rather to "respect" them, and we explain the vital role they play in maintaining a healthy ecosystem. Many believe the adage that the only good snake is a dead snake and that any animal that possesses venom or is considered potentially dangerous to humans is undeserving of sharing with us, our planet.
We are helping to change these negative attitudes people have towards the animals that they would othewise go out of their way to harm and we have made a huge impact over the years. We have received countless letters, emails, and messages from people who have seen our show, thanking us for changing their perception of the critters they once loathed. Students have reached out to us to say that we have inspired them to pursue a career in herpetology, zoology and other related fields as a result of the impression we left with them after seeing our show when they were kids.
As a result of the growing popularity in the exotic pet trade, we feel it is important to make others aware of the fact that some reptiles do not make suitable pets, even if they are readily available in the pet trade. These animals often suffer at the hands of inexperienced keepers, can become dangerous, or escape into the wild to become invasive species that damage the environment and threaten the native animals. As 2024 approaches and we get set to begin our 31st year of performing shows, it is our goal to continue to make a difference and inspire others to view reptiles in a more favorable manner!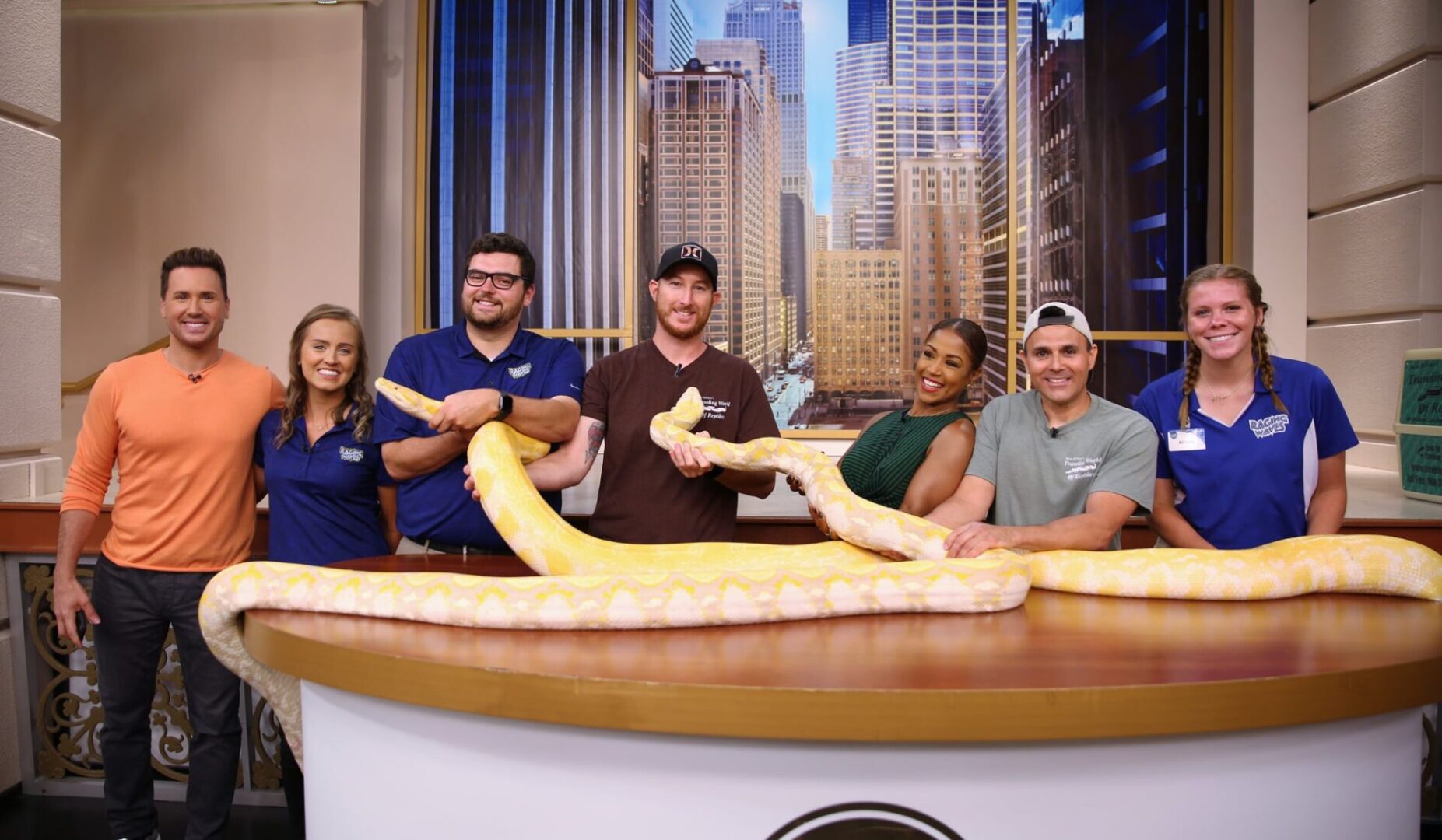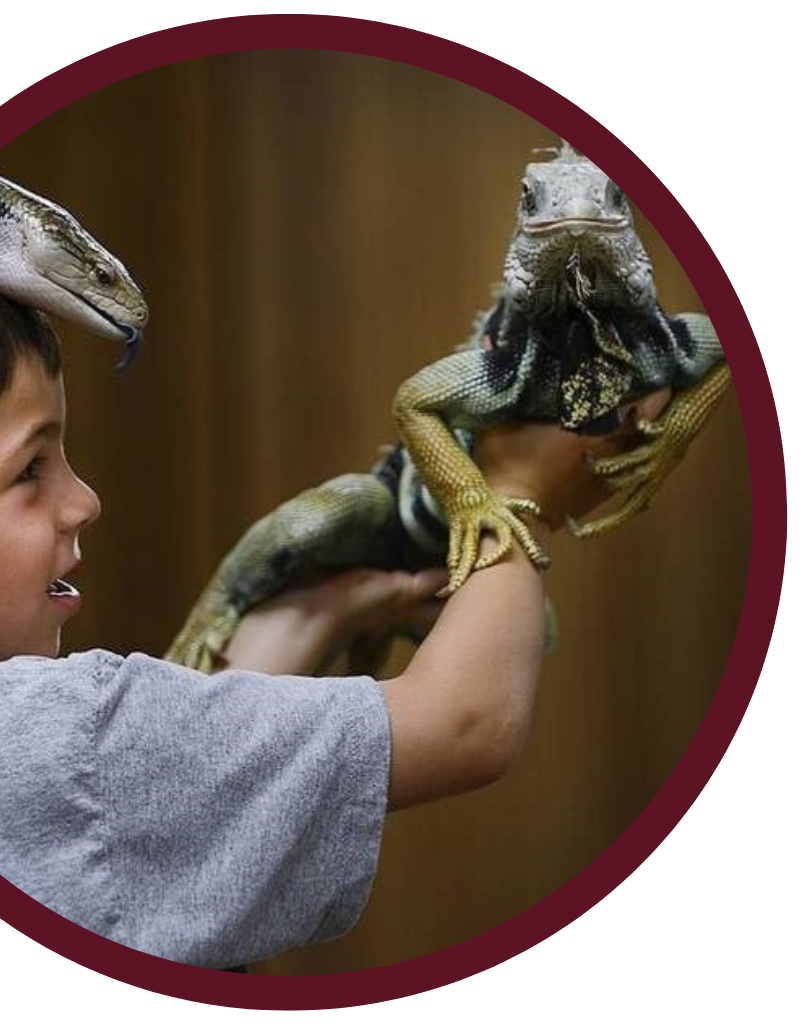 A Brief Description of Our Show
If you are reading this right now, it's most likely because someone recommended us to you. The majority of people who know about us found out about us through word of mouth or have personally seen one of our shows at perhaps a festival, private party, or one of the many other places where we perform.
The Traveling World of Reptiles is an up-close, live, hands-on presentation and experience featuring reptiles and amphibians from around the world. Since 1994, we have performed more than 20,000 live reptile shows, more than any other traveling animal company in the country, at schools, birthday parties, libraries, scout meets, festivals, child-care centers, churches, senior centers, and many other events. We have 30 years of experience educating and entertaining audiences while dispelling the myths and misconceptions surrounding these magnificent creatures.
We typically bring about a dozen different reptiles to our show, some of them quite large. The show is very funny, educational, and interactive. We are fully licensed and insured, and the show is perfectly safe. We blend a unique style of humor and education to make a totally original experience, so you will be every bit as impressed with the performer as you are with the animals!
All of our "critters" are cared for, handled, and transported in a humane and stress-free environment. The animals are captive-bred, not taken from the wild, and are raised by our staff. We also adopt, rescue, and rehabilitate some of the animals that accompany us to the shows. The reptiles are extremely friendly, and it is obvious from their gentle disposition that they love the attention and affection that they receive.
Some of the reptiles that you'll routinely see and touch include a 15-foot python, a 5-foot monitor lizard, a 4-foot American alligator, a large tarantula, a 50-lb. tortoise, a giant pixie frog, a 4-foot iguana, a 3-foot tegu lizard, and an alligator snapping turtle, just to name a few. A typical presentation is 60 to 75 minutes in length, which is ideal for events such as private parties and scouting events. For larger groups, such as school assemblies, festivals, or libraries, we often perform multiple shows, and if necessary, we can customize the length of the show to work within a specific time frame. We can entertain any age group, from toddlers to seniors and everyone in between! No deposit is required, and we do not accept payment until the day of the show.
Now that you have a general idea of what we're all about allow me to explain what it is that separates our company from any other. First of all, the humor! Our show is very funny and entertaining, like a stand-up comedy with reptiles, not some boring, overly scientific presentation. Every show is unique, and we feed off the energy of the crowd, so a lot of what we say is total improv. Second, we have decades of experience! This is what we do for a living. It's not something we do on the side. We are one of the original traveling animal shows in the Midwest, and we work with and handle some very large reptile species on a daily basis. Our expertise can also be attributed to the thousands of hours we spend in the field, observing, photographing, and studying reptiles all over the united states and around the world.
Lastly, reptiles are part of our DNA, and we are overly passionate about what we do, which is obvious to anyone who has ever attended one of our shows. But don't take our word for it. Check out the reviews on our social media pages or simply search our company online and read what others have to say about us!
If you would like the opportunity to see, touch and learn about reptiles and amphibians from around the world and laugh a lot while doing so, you will LOVE the Traveling World of Reptiles!
-Dave DiNaso